Cowboy Bob's

One of the things I really love to do is throw the bridle and saddle on my horse and go exploring the trails. Sometimes I'll ride the familiar routes, just enjoying the scenery. More often, however, I'll spot some side trail or deer track - and off we'll go toward... who knows what? The jaunt may take minutes or it may last hours. Whichever, it's always interesting - sometimes a real adrenaline rush!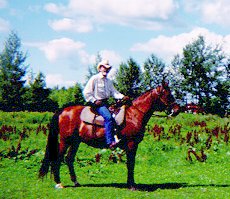 A web ring is a kind of Internet trail ride. It's designed like a... well, like a ring. They take you from web site to web site in a big electronic circle. In charge of each ring is a person called a "ringmaster." Most ringmasters want the link to their ring put on your main page, so folks can pop in and pop back out again on their way to the next site. As you can see, I haven't done that. Part of the reason is that I don't want to slow down the loading of my page more than necessary. Part is that I wanted some space to chat about rings.... like this. But the main reason is that I wanted a place where I could present several rings.
When I'm riding the 'Net, I still like to explore the side trails - to see the variations on the basic theme I'm following and look for rings I've never seen before. This page will send you off in one of several directions. When you come to another site with multiple ring connections, you may want to follow a different path than the one you've been on. As the trails meander and criss-cross, you'll begin to appreciate why the Internet is also refered to as "The Web." It's got more lines than any spider web!
And when you decide to head home and kick your boots off, just hit the bookmark for "Cowboy Bob's Home Spread." (You DO have my site bookmarked, don't you?!) Then go to one of my e-mail links and jot me a note about what you found.
Happy trails, pardner!
---

Active Webrings
---

Return to Cowboy Bob's Home Page
COPYRIGHT © 1999 BOB LEMEN, GRAND RAPIDS, MINNESOTA. ALL RIGHTS RESERVED.
The contents of this document are not for reproduction.