Adapted from a newspaper column in the Grand Rapids, MN, Herald-Review



December 18, 2005 --


Requiescat in pace, Willy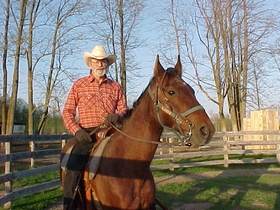 It is my sorrowful duty to inform you that my American Saddlebred gelding, Birchwoods King Supreme, (aka "Willy"), passed away on Thursday, December 1, 2005, at about 4 in the afternoon CST. He was 28 years old.

Born May 2, 1977, Willy was a blood bay with a small star on his forehead and a white left hind pastern. He was on his way toward fame and fortune as a show horse -- with a value in the tens of thousands of dollars -- when founder and rotated coffin bones cut his career short. I acquired him in August of 1988 for next to nothing. It was mostly a rescue effort; an attempt to keep a sweet-mannered horse from going to the pet food plant. The story of his recovery is far too long for this limited space. Suffice it to say that it was such a miraculous answer to the prayers of an old man and a young boy, that I had a friend document it (including before and after X-rays) on video tape for the benefit of those who might be tempted to doubt God's healing grace.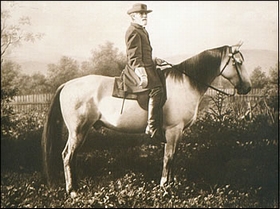 Willy is survived and sadly missed by yours truly and hundreds of friends of all ages who have learned to ride with Willy's help. His loss is also mourned by thousands of people around the world who came to know and love him through my Web site. Willy is also survived by his longtime friend and companion, Fanna Zippy Jet (aka "Fanny") -- another "rescue" after she became partially blind. Although a registered Quarter Horse, Fanny is Willy's eighth cousin three times removed through their common ancestor, the Thoroughbred, King Tom. Willy was also a sixth great grand nephew of Robert E. Lee's famous mount, Traveler, and a sixth cousin three times removed of the noted racehorse, Seabiscuit. His lineage can be traced back to the foundation sires of the Saddlebred, Standardbred, Thoroughbred, Arab and Morgan breeds.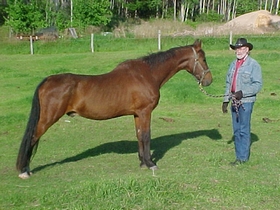 Willy maintained his sweet disposition to the very end, despite suffering from a multitude of ailments as his various organs progressively shut down. It seemed that he knew he was finally at the end of all his troubles and was ready to go.

To the best of my knowledge, he had lived longer than any of his ancestors. Even Willy's grand sire, Supreme Sultan -- arguably the top Saddlebred in the world -- only lived to the age of 17. (Willy lived twice as long as his cousin Seabiscuit, who died at age 14.)

I already miss Willy greatly, and I'd like to have a word with anyone who claims, "men don't cry." Even with the solace of my good friends, Michelle Bailey, Kelly Bentow, Deb Filipiak and Dr. John Howe, it still was half an hour after Willy's death before I could control my tears enough to really talk.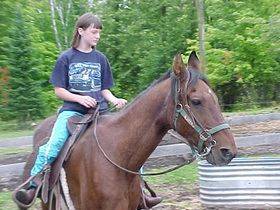 Willy was one of my best friends for the past 17 years, and it will take me a while to adjust to that loss. Will my equine friend be waiting in heaven for me? Frankly, I don't know. King Solomon, the wisest man ever, pondered that question, and could only say, "Who knows if the spirit of man rises upward and if the spirit of the animal goes down into the earth?" In other words, only God knows. Perhaps it depends on whether that critter plays a role when God wipes all the tears from our eyes. And when Jesus returns to earth, He and "all the hosts of heaven" will be riding white horses. Maybe Willy has already been changed from a blood bay to pure white and is just waiting for me to saddle up again. Until then, rest in peace, Willy.

(You can search Willy's pedigree in detail at: www.allbreedpedigree.com/birchwoods+king+supreme
... and cousin Fanny's at http://www.allbreedpedigree.com/fanna+zippy+jet)

Previous Newspaper Column

Return to Table of Contents


Return to Cowboy Bob's Home Page



Return to Cowboy Bob's Home Page
COPYRIGHT © 2005 BOB LEMEN, GRAND RAPIDS, MINNESOTA. ALL RIGHTS RESERVED.