Ambulance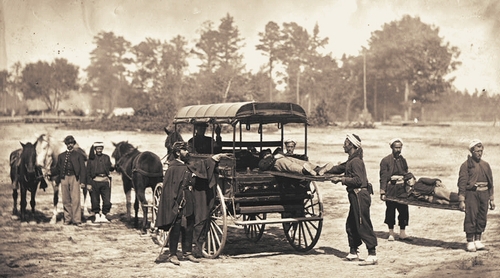 When a cowboy of the 1800s spoke about an ambulance, he wasn't talking about a rig with flashing lights and a siren. To him, an ambulance was a light wagon with a flat bed, plenty of storage space, a canvas top, and high wheels for traveling over rough terrain -- a sort of early-day off-road pickup truck.
In this picture, a military ambulance crew demonstrates procedures for removal of wounded soldiers from the field. Photo taken about 1862, location unknown.
Incidentally, a military version ambulance manufactured by Studebaker Wagon Corp. became the first chuck wagon. The famous Texas cattleman, Charles Goodnight, added a wooden water barrel, a wooden chuck box with a fold-down table on the rear, a "boot" below the food box to carry the cast-iron Dutch Ovens, and a dried cowhide coonie below the wagon box to carry firewood and cow chips. Unfortunately, all those additions made the wagon so heavy it required six slow-moving oxen to pull it. Later versions of the chuck wagon eliminated much of the unnecessary weight.
Photographer unknown; courtesy Library of Congress, Prints & Photographs Division, Reproduction Number: LC-DIG-cwpb-04095 DLC.