Return to Questions and Answers Index
Q&A Questions and Answers:
---
QUESTION:
I'm going to stump you yet... maybe. What is the card a cowboy calls "Calamity Jane" and what is a honda you couldn't go cattle driving without?
- R. G.
ANSWER: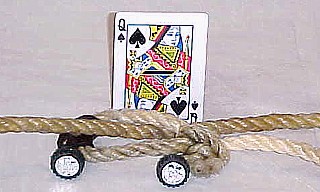 In poker, a "Calamity Jane" is the queen of spades, named, of course, for Martha Jane Canary (1852-1903), the famed female army teamster, angel of mercy and Wild West Show performer.
A cowboy's honda is not a vehicle, but the small loop on the end of a lasso that the running line goes through.
Next question....?

Return to Questions and Answers Index

Return to the "Learning More About Horses..." page
COPYRIGHT © 2003 BOB LEMEN, GRAND RAPIDS, MINNESOTA. ALL RIGHTS RESERVED.
The contents of this document are not for reproduction.