Return to Questions and Answers Index
Q&A Questions and Answers:
---
QUESTION:
How fast can a thoroughbred run?
- L. J. P.
ANSWER: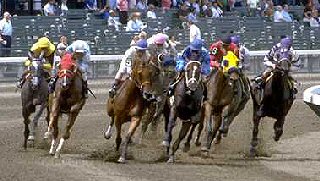 That's a mighty interesting question! I suppose the safest answer is, "as fast as he cares to run"! Seriously, I'm a bit reluctant to give a firm number, because as soon as I do someone will come up with a faster speed. Back around the 1930s, some scientist determined that it was physically impossible for a human to jump higher than his own height. It wasn't long, however, before his theory was smashed. Also, the speed of a horse depends on many variables: distance traveled, weight carried, terrain, weather, etc. The biggest variable, of course, is the horse's willingness to run.
Having said all that, I'll just point out that the record for a thoroughbred on a one-mile track works out to about 39 MPH. During a race, some Thoroughbreds have been momentarily clocked at speeds higher than 50 MPH.
Now just watch -- next week some smart-alek thoroughbred will hit 40 MPH!
I hope this gives you what you need!
Previous Question | Next Question

Return to Questions and Answers Index

Return to the "Learning More About Horses..." page
COPYRIGHT © 2005 BOB LEMEN, GRAND RAPIDS, MINNESOTA. ALL RIGHTS RESERVED.
The contents of this document are not for reproduction.