Return to Questions and Answers Index
Q&A Questions and Answers:
---
QUESTION:
Man, you are good....
Tell me what I'm cooking... slow elk with Texas butter, two soda sinkers and a helping of whistle berries.
-- R. G.
ANSWER: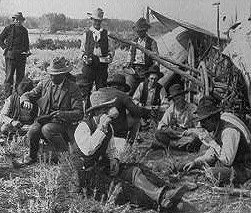 Mmmmm! I hope you enjoy your beef with gravy, and those two biscuits are great for wipin' the last morsels of beans off the plate! There's nothin I like better than to line my flue with a batch of whistle berries -- preferably with some skunk eggs and larrup thrown in! Then I'll wash it down with some brown gargle. And if Cookie is real accommodatin' we might even have some bear sign to dunk.*
By the way, beans aren't just called "whistle berries." Among polite company they're more likely to be called "bullets" or "Saturday Nights."
* For the non-cowboys in our midst, brown gargle is coffee, skunk eggs are more commonly known as onions. The sweet larrup in a batch of baked beans is also called molasses, and bear sign is Rocky Mountain talk for donuts.
Buen provecho!



Previous Question | Next Question

Return to Questions and Answers Index

Return to the "Learning More About Horses..." page
COPYRIGHT © 2005 BOB LEMEN, GRAND RAPIDS, MINNESOTA. ALL RIGHTS RESERVED.
The contents of this document are not for reproduction.