Return to Questions and Answers Index
Q&A Questions and Answers:
---
QUESTION:
Bob,
What kind of saddle pad do you recommend? There are all kinds of pads, and each is making its own claim to be the best....
-- S. L.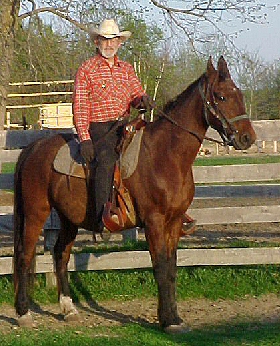 ANSWER:
Personally, I'm partial to the sort of thick felt pad I've used for more than 17 years. It gives plenty of padding and doesn't slip around like a lot of saddle blankets and pads do. The one I use is cut out to avoid rubbing on the withers (which was very important with Willy) and has leather reinforcements to protect the pad where the stirrup leathers rub. It allows sweat to wick away from the body, yet helps hold in body heat in winter. Mine has gotten a lot of use over the years, but doesn't show it. It may cost a bit more, but I'm very glad I made the investment. You can see what it looks like in the photo at left.


Previous Question | Next Question

Return to Questions and Answers Index

Return to the "Learning More About Horses..." page
COPYRIGHT © 2006 BOB LEMEN, GRAND RAPIDS, MINNESOTA. ALL RIGHTS RESERVED.
The contents of this document are not for reproduction.