Return to Questions and Answers Index
Q&A Questions and Answers:
---
QUESTION:
Why do horses usually stand with their tails facing the wind? Is it because they like the way it feels?
M. & E. H.
ANSWER: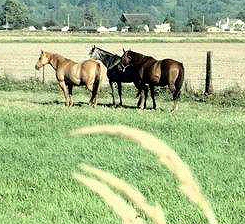 Horses are "prey" animals, so they are naturally on their guard against predators. Their super-sensitive noses are adept at detecting anything that is upwind from them, but they can't smell anything that's downwind. By standing facing downwind, they can watch for things they can't smell and the wind will help alert them to what's behind them. That position may also help protect their eyes and noses from wind-blown sand and dust.

Previous Question | Next Question

Return to Questions and Answers Index

Return to the "Learning More About Horses..." page
COPYRIGHT © 2006 BOB LEMEN, GRAND RAPIDS, MINNESOTA. ALL RIGHTS RESERVED.
The contents of this document are not for reproduction.