Return to Questions and Answers Index
Q&A Questions and Answers:
---
QUESTION:
Is a catalpa tree harmful to a horse?
D. J.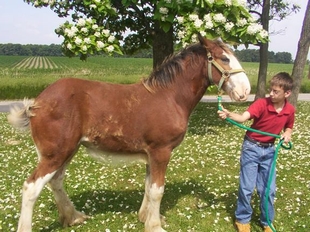 ANSWER:
Although the nectar of the catalpa tree appears to be toxic to some ants, the catalpa tree is safe for horse pastures.
Here are two lists of trees -- the first shows trees that are generally safe for horse pastures; the second list shows trees that are hazardous to horses. Remember, of course, that too much of anything can be harmful!
Safe pasture trees:
Northern catalpa
Speckled alder (a larger native shrub that grows well on wet soggy soil and can provide some shade for livestock)
Ash -- black, white, or green
Aspen -- trembling and large-tooth
Balsam fir
Beech
White cedar
Sweet chestnut*
Elm
Hawthorn
Eastern hemlock
Honey-locust (not black locust!)
Maple -- black, Manitoba, silver or sugar -- BUT NEVER RED, SCARLET, OR SOFT MAPLE!
Osage-Orange
Poplar
spruce -- white, black, red, Colorado, and Norway
staghorn sumac (upright, red, cone-shaped, seed head)
sycamore
tamarack (eastern larch)
willows
*Native sweet chestnuts (the spreading chestnut tree under which the village smithy was said to stand) were decimated by chestnut blight disease across North America during the 1800's, however, there are some species recovery efforts being made.
---
Poisonous or potentially poisonous trees:
Apple
Boxwood
Buckeye
Butternuts
Cherry
Black cherry
Red chokecherry
Horse chestnuts
Kentucky coffee tree
Mountain laurel
Black locust
Oak -- white, red, and black
Oleander
Peach
Pin cherry shrubs
Privet
Red maple -- also known as scarlet or soft maple -- distinguished by color and by the pointed or serrated edges of the leaves
Walnuts
Ornamental yews

Photo of a Clydesdale foal in front of a blooming catalpa tree courtesy of Doug and Janice Johnstone and family of Brigadoon Clydesdales, Claremont, Illinois -- www.brigadoonclydesdales.com

By a strange coincidence, the next e-mail question I received had to do with Clydesdales!




Previous Question | Next Question

Return to Questions and Answers Index

Return to the "Learning More About Horses..." page
COPYRIGHT © 2007 BOB LEMEN, GRAND RAPIDS, MINNESOTA. ALL RIGHTS RESERVED.
The contents of this document are not for reproduction.