ANSWER:
In the 1800s, cowboys and other manual laborers wore what was called "ready-to-wear" -- second-hand clothing that had been discarded by the higher classes.
With few exceptions (such as military uniforms), new clothing was not mass produced back then. If you wanted an outfit, you went to a tailor, who measured you and custom-made the shirt, suit, trousers, coat, or whatever. If you out-grew your duds or just got tired of them, you might sell them to a second-hand (or ready-to-wear) store, where they would be bought by folks who needed inexpensive clothes for work.
That's why you'd often see cowhands riding the range wearing a suit coat or vest and dress pants (rather than jeans). Also, many veterans continued to wear parts of their former uniforms for work.
By the way, did you ever wonder why chimney sweeps usually wore top hats and tuxedos? Well, the fancier the clothes were, the harder they were to re-sell... and the lower the second-hand price. Chimney soot was tough on clothes, so a black tux at a rock-bottom price was just what the sweep needed!
A printed source you may find helpful is Cowboy Gear: A Photographic Portrayal of the Early Cowboy and their Equipment, by David R. Stoecklein. You can order it on-line through Barnes & Noble by clicking the link located in my Trading Post.
The photos at right illustrate the variety of clothing I mentioned above.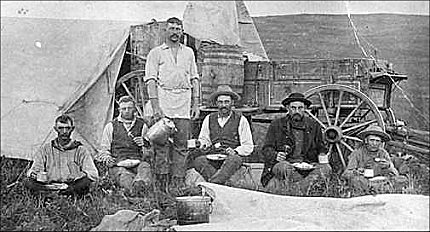 Portrait of cow punchers eating at the Birdwood Ranch in Nebraska, c. 1870-90. Courtesy of Western History/Genealogy Department, Denver Public Library.


A group of cowboys on a cattle drive ready to break camp, somewhere in Colorado, between 1900 and 1920. Courtesy of Western History/Genealogy Department, Denver Public Library.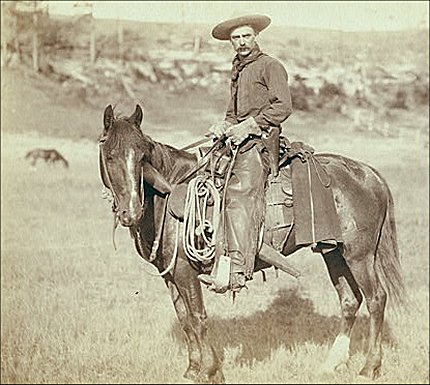 Cowboy on a horse - photo taken between 1887 and 1893. Courtesy of Library of Congress Prints and Photographs Division Washington, D.C.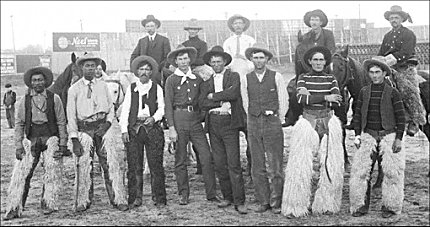 Bunch of genuine old time cowboys and bronco busters at Denver, Colorado, 1905. Courtesy of Nebraska State Historical Society, [Digital ID nbhips 12615]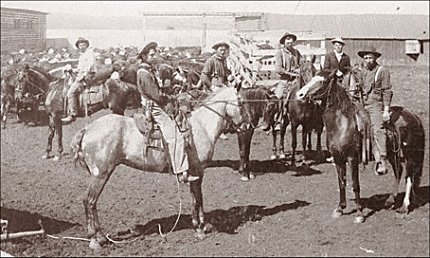 Photo of Nebraska cowboys, possibly in Custer County's Round Valley, taken by Solomon D. Butcher in 1888. Courtesy of Nebraska State Historical Society, [Digital ID nbhips 16302]