LA Times February 3, 2003
FITNESS
Hitting his stride at 87
A fitness instructor sets a pace that leaves younger folks in awe
-- and, sometimes, in the dust.
By Jenny Hontz, Special to The Times
At 7 a.m. sharp, a dozen guests gather in the fitness center lobby of a Palm Desert resort, ready for the sunrise fitness walk. Group leader Bob Lemen arrives, and the eyes of a woman in her 30s grow wide, her mouth falling agape.
Sporting white sneakers that match his hair, Lemen, who turns 88 in March, isn't quite the instructor you'd expect. He gets the group stretching and disarms them with his wit.
"Two things you should know about walking," he says. "If you walk a lot, you may become addicted, and if you become addicted, you will get older and older and older."
No one keeps statistics, but fitness experts believe that Lemen is among the oldest exercise instructors in the nation.
"To be an 87-year-old instructor is highly unique," says Pat Ryan, vice president of education at IDEA Health and Fitness Assn., a 19,000-member organization of fitness facility owners, managers and instructors. "I haven't actually heard of someone that old."
Lemen rises at 3 a.m. each day and gets to the fitness center at Marriott's Desert Springs Resort & Spa by 5. He works full time in the weight room and leads the 3 1/2-mile power walk three to five mornings a week. Lemen loves his job, which he's held for a decade.
"All these pretty ladies, and my wife thinks I'm working," quips Lemen. He and his wife, Betty, have been married for 61 years and have three children, 13 grandchildren and seven great-grandchildren.
Those who think Lemen's workout will be easy are sorely mistaken. He starts at a brisk 13-minute mile pace, spinning stories without ever losing his breath. Several students, including the woman in her 30s, drop out before the 45-minute walk is over.
Lemen's boss, Temple Swensen, 34, says people often pull her aside after they return. "When I first saw him, I thought he'd be slow," they confide. "But I could barely keep up. He gets on that stride and just goes."
Lemen recalls hearing a young speed-walker ask the receptionist if the walk was challenging and who would lead it. "They pointed to me, and the gloomy look that came over her face! I don't make this a contest, but something in me, the little devil, I just left her in the dust."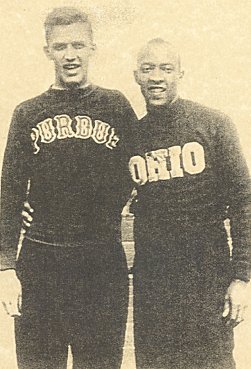 His competitive juices started flowing early in life. When Lemen was a sophomore at Purdue University, he ran the 220 low hurdles in a Big 10 meet against Jesse Owens. It was Owens' last college competition before the 1936 Olympics.
"If you've never been intimidated, I can tell you how it feels," Lemen says. "My grandchildren say, 'Grandpa, how did you do?' I say, 'Well, I stayed with him until they fired the gun.' He was awesome."
In his 20s, Lemen spent four years in the Army during World War II, rising to captain and earning a Purple Heart in Italy, when the force of an incoming shell picked him up and slammed him against a wall, lodging rock slivers in his leg. He continued to fight and adopted the motto he still uses today: "A moving target is harder to hit."
After the war, Lemen returned to his job in the group division of Aetna Life, retiring in 1978. He took up woodworking, but one day his wife said they had enough cabinets for their two-bedroom condo. "From here on, if anything comes in this house, something of equal weight and size is going out," she told him. "I thought she meant me."
So Lemen got the job at Desert Springs, starting out with part-time desk duties.
"They were sort of avoiding me for the walk," Lemen says. "I said, 'How come I'm always afternoons?' and they said, 'Bob, the problem is if you work the morning shift, you have to take the morning walk.' And I said, 'Oh, really? Throw me in the briar patch.'"
Now Lemen is their most popular walking instructor. Vacationers, businesspeople and time-share owners return to see him every year, calling ahead to make sure he's working.
"He is really quite the celebrity here," Swensen says. "He's lived a really incredible life, and he's an inspiration to young and old."
People who think it's too late to get in shape often change their minds when they meet Lemen.
"If they come in and see huge shoulders and young bucks, it intimidates them a little," Lemen says. "They see me there and figure they can do it too."
Colin Milner, chief executive of the International Council on Active Aging, believes Lemen soon will become less of a rarity: "As the population ages and people stay healthy, the age of your trainer will certainly go up. This will be the growth area for the fitness industry -- people who retire."
Aging by itself doesn't make people get out of shape, after all.
"If you use it, you don't lose it," says Swensen. "We all want to be like Bob, to put his little secret in a bottle and sell it."
Lemen claims his secret is Betty, who provides "100% support," and he shows no signs of slowing down.
"If my knees go, I wouldn't be satisfied doing the job. But there's been no problem with the legs and absolutely no problem with my heart or breathing," he says.
"My wife always wants to interrogate me: 'Don't you sometimes feel a little twinge of pain in your heart?' And I say, 'No, I don't feel anything in my heart except for you.'"
Story copyright 2003, Jenny Hontz. Reprinted by permission of the author.

Return to Cowboy Bob's Home Page
COPYRIGHT © 2003 BOB LEMEN, GRAND RAPIDS, MINNESOTA. ALL RIGHTS RESERVED.
The contents of this document are not for reproduction.