Willy's Equine Friends
Here are a few snapshots of other horses (and people) we've met -
either in person or via the Internet: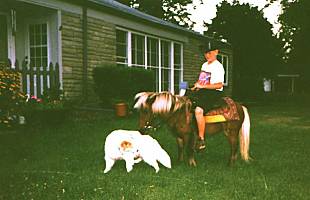 Cowboy Bob -
The Next Generation
The world can breathe a big sigh of relief, knowing that there's a fresh supply of Cowboy Bobs comin' along! This fine young fellow goes by the moniker "Lil' Cowboy Bob" (no relation to yours truly) and hails from Illinois. He's learnin' to ride on miniature horses - the mare he's perched on in this photo is named "Zipporah" (after the wife of Moses) or "Zippy" for short. Bob's canine sidekick answers to the name "Ginger."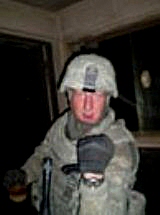 Update:
Time has flown by and "Lil' Cowboy Bob" isn't so "Lil'" any more! In fact, he's now about six foot three and he's helping to keep the rest of us safe by telling off the Talaban in Kandahar, Afganistan -- as you can see in this straight from the battlefield photo!

Keep up the good work, Bob!
| | |
| --- | --- |
| | Thanks to Bill Hammond of Montana for sending a bunch of photos from his neck of the woods. I wish I could show you all of them, but this will have to do for now. Bill snapped this photo while riding in the Grizzy Lake area. Bill Phillips, an old cowboy, is riding his quarterhorse, Bucksnort. The youngest Hammond gal, Crystal, is on George, the mustang gelding that she broke herself. The Hammonds' youngest son, Ricky ("Whoa") is on his quarterhorse mare, Whisper. The other two horses are Bill Hammond's mare, Willow, and a mustang gelding, Mooch. Bill tells me that the entire Hammond clan in the U.S. came from a single Irish family, so he must be some sort of kin to Jim Hammond and his family down in Florida. (See Q & A number 1 - Re-training former race horses.) |
Lloyd "Cody" Wilson


lives on a ranch up in the mountains just outside of Bisbee, Arizona. He's attending college in Sierra Vista and one of his research papers was on "The Language of Horses." He happened upon my Home Spread while working on that project and discovered that we tend to view equine communication the same way.

This pic shows Cody on his Arab, Zane. Sorry, gals, he didn't tell me if he has a steady lady friend. You'll have to check that out for yourself!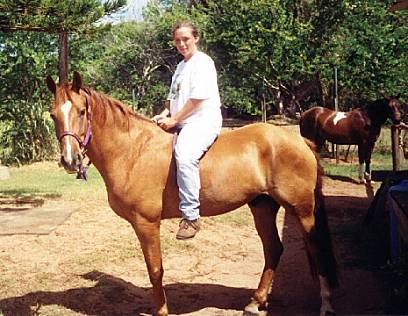 Adriane Z. on King


Adriane met King on Hawaii, where Adriane's husband was serving in the military. When Rick got transfered to California, Adriane wanted to buy King and take him with them, but the cost was prohibitive. Adriane is also a talented writer and artist.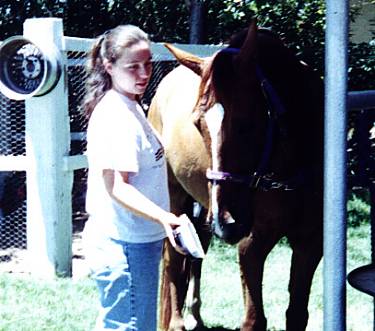 Okay, Is there anyone who thinks God doesn't answer prayer? Well, here's the answer to the seemingly impossible prayer above! Adriane and King were reunited in Southern California -- thousands of miles from their former home in Hawaii! We all prayed a long time about this one, but God made it happen!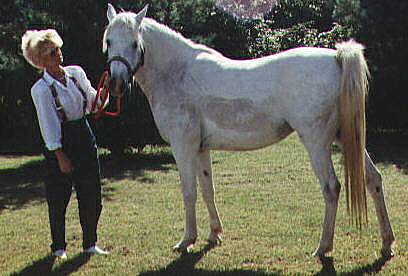 Jodie and Alexandra


Speaking of the pain of having to give up a favorite horse, the lady above, Jodie, had owned horses most of her life, but had to give them up when she lost her husband. Talk about adding grief to grief. I'm sure she'd appreciate your prayers in these tough times. The five-year-old Arabian mare in the photo is Alexandra. "She hadn't been worked with much," Jodie says. "I loved her from the first moment we came together; she never won anything but I loved her just the same. I miss her terribly. We have had many a 'moment' together on the trail."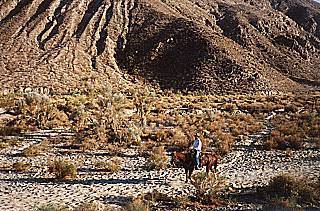 Prescott
While visiting my folks in California a few years back, I started going into "equine withdrawal syndrome" - a potentially dangerous ailment for cowboys! I ambled over to Smoke Tree Stables at Palm Springs and rented a critter for a little ride into the Cahuilla (pronounced Kah-WEE-yah) Indian Reservation. The horse I got was a Quarter Horse named Prescott - he gave me a nice ride with a variety of smooth gaits.

Return to Cowboy Bob's Home Page
COPYRIGHT © 1999-2010 BOB LEMEN, GRAND RAPIDS, MINNESOTA. ALL RIGHTS RESERVED.
The contents of this document are not for reproduction.