CLICK HERE to meet Willy's Equine Friends (and some of the two-legged variety)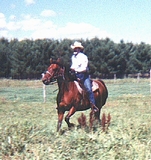 It is my sorrowful duty to inform you that the American Saddlebred gelding, Birchwoods King Supreme, (aka "Willy"), passed away on December 1, 2005, at about 4:00 in the afternoon CST. He was 28 years old. To the best of my knowledge, he had lived longer than any of his ancestors. He is survived and sadly missed by his owner, "Cowboy Bob" Lemen and hundreds of friends of all ages who have learned to ride with Willy's help. Willy is also survived by his longtime friend and companion, Fanna Zippy Jet (aka "Fanny"). You can read Willy's "obituary" in the Newspaper Columns section at www.lemen.com/columnwilly.html It is my hope that Willy's rich equine legacy will continue to live on through the pages of this website -- and the lives of you who visit here.

It would take forever to load this page if I tried to show you pictures of everyone who has set a-top ol' Willy, so I just grabbed a few -- with apologies to everyone else.
---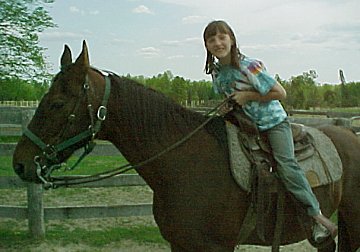 Dylan
When Dylan fell in love with horses, her mom asked me to take Dylan under my wing and teach her all about horses. She didn't have to ask twice -- and Dylan became a steady worker and an almost constant companion. She doesn't even mind hauling hay and cleaning stalls!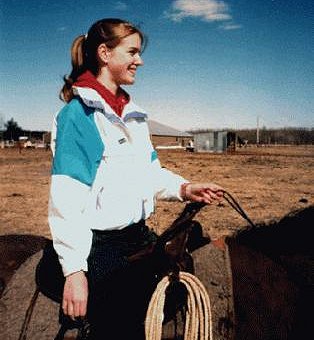 Jenny
Undoubtably Willy's truest friend, Jenny has been in love with that half-ton of horseflesh for years... and continued to visit him often, even after getting her own horse.
Several months back, some other young friends of mine were excitedly telling me about the wonderful time they had at a Christian horse camp -- and how they had especially liked one of the instructors there: a gal by the name of -- you guessed it -- Jenny!
What goes around, comes around!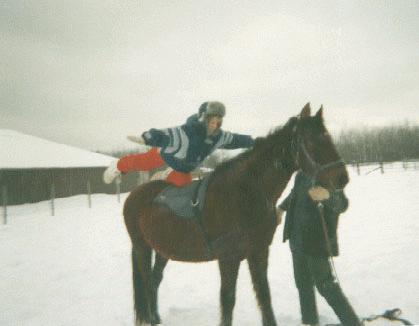 Corinne
Corinne has a natural feel for a horse's motion and an "I Can Do This" attitude that overcomes the challanges of doing gymnastics on a moving horse.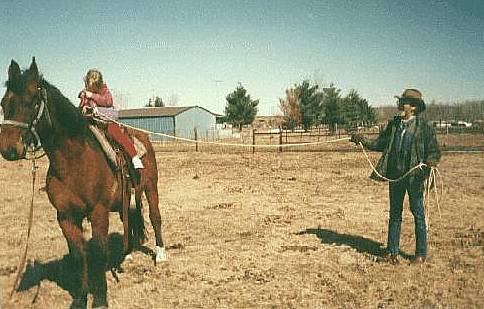 Hanna
Following in the footsteps (hoofprints?) of her big sister, Jenny, Hanna learned to watch out when there's a cowboy with a rope around!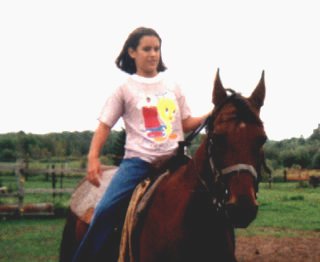 Stacy
A close friend of Jenny, Stacy - along with some of her siblings - helped me work Willy and my little Quarter Horse filly, Fanny. Stacy has a no-nonsense attitude that helps keep things calm when the critters aren't.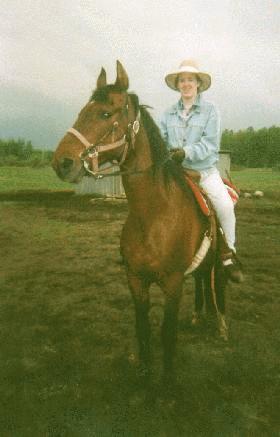 Tracie
Allergies and a congenital heart condition couldn't stop Tracie from learning how to ride horses. As you think of it, I'm sure she'd appreciate your prayers that the Lord will continue to mend her little ol' blood-pumper.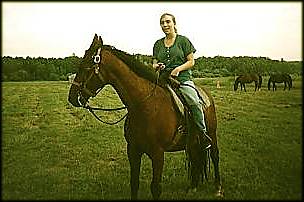 Maureen
I just knew it was gonna happen! I was chatting with the gal next door, Maureen, when she asked why I had a picture of her best friend, Jenny, on my web page and not her's! She said it with a smile and was real understanding about the problem I have in deciding which pictures to use and which not to. Anyhow, because Maureen's such a special gal here's a picture of the real "girl next door."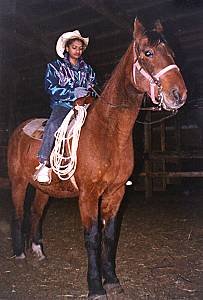 Vijini
Vijini is the undisputed long-distance winner among Willy's friends. Vijini hails from Malaysia and came here to study as an A.F.S. exchange student. This was the first time Vijini had been near a real live horse - and she did real well.
CLICK HERE to meet Willy's Equine Friends (and some of the two-legged variety)

Return to Cowboy Bob's Home Page
COPYRIGHT © 1999-2010 BOB LEMEN, GRAND RAPIDS, MINNESOTA. ALL RIGHTS RESERVED.
The contents of this document are not for reproduction.