Return to Questions and Answers Index
Q&A Questions and Answers:
---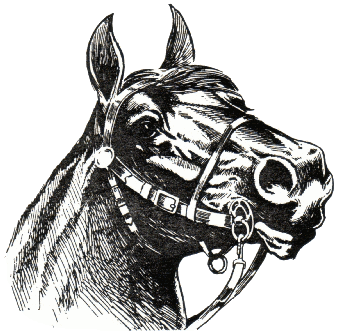 QUESTION:
Have you ever come across instructions on how to use the Prof. Beery Driving Bit? I believe it can be adjusted in different ways?
I Looovvve your website. Thank you for your contributions to everyone's knowledge.
-- H. G.
ANSWER: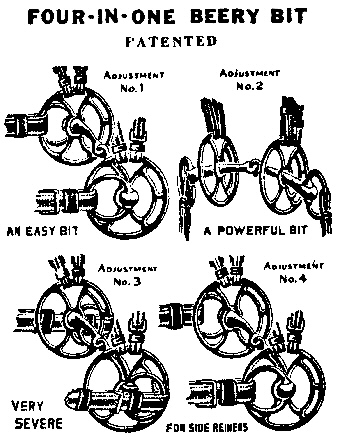 The Beery Driving Bit, invented by the world-famous horse trainer, "Professor" Jesse Beery (1861-1945), was originally called the Four-In-One Beery Bit. Now reproduced by Weaver Leather, the bit can be adjusted from very easy to very severe -- and several intermediate styles.
The bit is basically a jointed snaffle bit with two circular cheek pieces. Depending on whether the reins pass through the snaffle rings alone or through the snaffle rings and cheek pieces together, the bit places different types and amounts of pressure on the head, mouth and cheeks. The four basic rein attachments are shown in the illustration at right (which came with the original bits). [Click on the drawing for a slightly larger view.] Pay special attention to whether the rein attaches to the snaffle and cheek piece or to just the snaffle -- and where the attachment is made. (The picture at the top of the page is an illustration showing the bit in use from one of Prof. Beery's horse training books.)
Prof. Beery also designed and sold a "Double Action Riding Bit" which added a lot of leverage as well as exerting pressure on a curb chain and on the poll. I haven't seen it reproduced anywhere, and would hesitate to recommend it to anyone but an experienced trainer with very gentle hands.


Previous Question | Next Question

Return to Questions and Answers Index

Return to the "Learning More About Horses..." page
COPYRIGHT © 2006 BOB LEMEN, GRAND RAPIDS, MINNESOTA. ALL RIGHTS RESERVED.
The contents of this document are not for reproduction.