Return to Questions and Answers Index
Q&A Questions and Answers:
---
QUESTION:
What is sacking?
Q. S.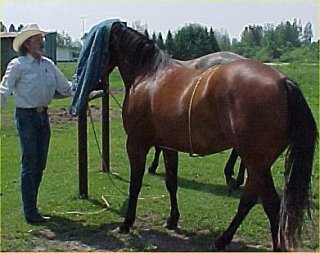 ANSWER:
Sacking is a method of de-sensitizing a horse to flapping items and to being touched in a less-than-gentle way. The age-old method involved taking an empty grain sack (hence the term "sacking") and rubbing the horse with it. As the horse became less sensitive -- and less spooky -- the trainer would flip the sack around until the horse paid no attention even when the sack was flipped over the critter's head. Obviously, any hunk of cloth can be used, such as a saddle blanket. I've often used my denim jacket, which allows me to actually fasten it over the horse's head and let the animal experience being ridden while blindfolded.

Previous Question | Next Question

Return to Questions and Answers Index

Return to the "Learning More About Horses..." page
COPYRIGHT © 2006 BOB LEMEN, GRAND RAPIDS, MINNESOTA. ALL RIGHTS RESERVED.
The contents of this document are not for reproduction.