Return to Questions and Answers Index
Q&A Questions and Answers:
---
QUESTION:
Hi, Cowboy Bob:
You've been such a good web-friend over the past few years, I feel like I know you.
I'm sorry about Willy's passing. This past Friday, Dec. 15th, My 13 year old Appy gelding, Pete, joined him. Pete foundered and was beyond recovery. I lost my best buddy and friend.
I'm not sure I'll ever really recover from this. I just don't see why God took Pete from me.
A. C.
ANSWER: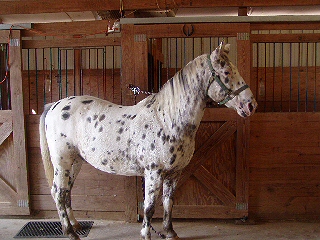 I'm so sorry to hear about your loss of Pete after such a short time of having your horse dream fulfilled. I still have the photo of Pete that you sent me last April, and I just spent some time looking at him again.
A couple of months ago some friends of mine had to put down an old horse. It was really hard on them, and I spent most of the day with them as they prepared for Sirroco's passing. At one point the family was all up at the house and I was left alone with Sirroco. I quietly said to him, "When you get to wherever you're going, please say hi to Willy for me, and tell him I miss him." If God is as good as I think He is, Pete, Sirroco, and Willy are frolicking in a land where there is no more founder.
Like me, you'll never really "recover" from Pete's death -- nor would you want to, because it would mean the loss of all of your good memories of him. Instead, the memories will gradually become richer, more mellow, less painful. Yes, the tears will come from time to time (like mine have tonight), but you'll also remember that the tears spring from all the good times you had.
Why did God take Pete from you? The obvious answer is that horses are very accident and disease prone, and Pete foundered. Without you, he might have died even sooner. As it was, he had you there to make his final hours easier.
There's another, not-so-obvious reason: because God wanted to expand your personal ministry to others. In the first chapter of Second Corinthians, Paul makes an interesting "blanket statement" about why problems come our way....
"Praise be to the God and Father of our Lord Jesus Christ, the Father of compassion and the God of all comfort, who comforts us in all our troubles, so that we can comfort those in any trouble with the comfort we ourselves have received from God. For just as the sufferings of Christ flow over into our lives, so also through Christ our comfort overflows." -- 2 Corinthians 1:3-5
In other words, before Willy died, I really had no words of comfort to offer someone like you, because I hadn't walked in those shoes. Today, I have, and I know a lot about what you are going through -- and about the comfort you can find in Jesus' love and grace. As you also discover that comfort, you'll be able to pass it on to others. The healing WILL come -- and you'll be a better, stronger, person because of it.
In the meantime, rest assured that you are in my prayers.
God bless!
Previous Question | Next Question

Return to Questions and Answers Index

Return to the "Learning More About Horses..." page
COPYRIGHT © 2006 BOB LEMEN, GRAND RAPIDS, MINNESOTA. ALL RIGHTS RESERVED.
The contents of this document are not for reproduction.