It's mostly advertising hype, but Wrangler has been the "Official Jeans of the Pro Rodeo Cowboys Association" (PRCA) since 1974. It seems strange that an Eastern firm should have 20 percent of the jeans market and claim that theirs are the only ones "real cowboys" wear -- especially since Wrangler jeans didn't even exist until the late 1940s. On the other hand, since the 1870s western folks have been wearing jeans made in California by a former ranch hand named Levi Strauss.

So how did the Wrangler brand corner the market on "real cowboy" jeans? In a word, they bought it.

In 1943 the Blue Bell Overall Company, located in Greenboro, North Carolina, bought the Casey Jones Work-Clothes company. Along with the sale came the virtually unknown brand name "Wrangler." In 1947 Blue Bell hired a clothing designer, who went by the nickname "Rodeo Ben," to create a line of western attire. Part of that new line was a style of jeans dubbed "13MWZ." Blue Bell then paid a group of well-known rodeo stars to help promote the brand. When Wrangler bought the right to be the "official" PRCA jeans their position was cinched up tight. Since 1986 the Wrangler brand has been owned by VF Corporation of Pennsylvania, which merged with Blue Bell.

Having owned and worn jeans made by Wrangler, Levi's, Lee (founded in 1889 and also owned by VF Corporation), Dickies (founded in 1922 in Bryan, Texas), and others, I have to say honestly that I've never really liked the 13MWZ jeans for riding. They were first designed when I was four years old, and -- just like me -- are showing their age. My main complaints have been that they tend to bind when you're in the saddle and the hip pockets sit too low.

For my money, the best -- and most comfortable -- cowboy jeans ever made were the Levi's 557s. They were specifically designed for riding, with slightly fuller thighs, legs that fit well over western boots, hip pockets set high enough that you weren't sitting on them, a higher rise in the back, etc. Unfortunately, that line was only produced for a few years and has been discontinued for several years. I guess for all of their functionality the 557s weren't fashionable enough for "real cowboys"!

I hope this helps you win that bet!

P.S. For the record -- and to keep all the lawyers happy:
Wrangler® is a registered trademark of VF Corporation.
Levi's® is a registered trademark of Levi Strauss & Co.
Lee Jeans® is a registered trademark of The H.D. Lee Company Inc.
Dickies® is a registered trademark of Williamson-Dickie Manufacturing Company.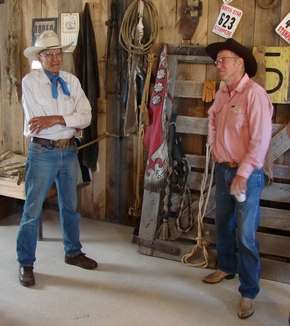 Howard Pitzen was a real working western cowboy before Wrangler jeans ever hit the market and Duane Barrow has herded horses and cattle over hundreds of miles of open country. Does the fact that there's no big "W" stitched on their back pockets now disqualify them as "real" cowboys?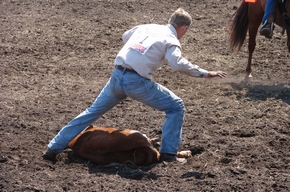 Calf roper Kyle Wilson isn't wearing Wrangler jeans, but I'd still say he's a real cowboy!