Return to Questions and Answers Index
Q&A Questions and Answers:
---
QUESTION:
Would you know where I could find a set of plans for an outdoor rodeo arena?
- Former 4H leader & horse mother

ANSWER:
Go to www.powderriver.com and use their on-line catalog request form. Be sure to check the Rodeo Arena Plans item -- and in about a week you'll have a booklet with 13 plans from various arenas. I understand that they also have the capability to generate a 3-D computer plan for your specific arena.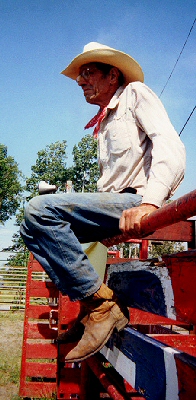 Powder River is one of the nation's two top manufacturers of rodeo equipment and has had an excellent reputation for more than half a century. (And no, I don't have any connection to them -- I found this out by asking Howard Pitzen, a respected veteran rodeo promoter who investigated many arenas across the country.)
Howard also offered a few other helpful comments... One thing he noticed over his more than five decades in the business was a trend toward smaller arenas. At 150' by 250' the North Star Stampede Rodeo arena at Effie, MN, is now one of the larger ones. For years the PRCA tried to require a minimum of 140' by 240' but eventually had to give in to the trend toward even smaller venues.
Another trend is toward enclosed arenas. Having a controlled environment means greater comfort for both the spectators and competitors - and never having to give a rain check. On the down side, it's also more expensive. The arena at North Platte, Nebraska, even has carpeted alleyways and a raised platform behind the chutes. With its outdoors arena, the North Star Stampede Rodeo deals with the weather by advertising that it is held the last weekend in July - "Rain or Shine."
Finally, Howard warned, "there's no money in it." So why did he stay in the rodeo business so long? "It's an addiction."
Happy Riding!

Return to Questions and Answers Index

Return to the "Learning More About Horses..." page
COPYRIGHT © 1999 BOB LEMEN, GRAND RAPIDS, MINNESOTA. ALL RIGHTS RESERVED.
The contents of this document are not for reproduction.