Return to Questions and Answers Index
Q&A Questions and Answers:
---
QUESTION:
Hello,
When did cowboys start wearing socks?
T. S.
ANSWER: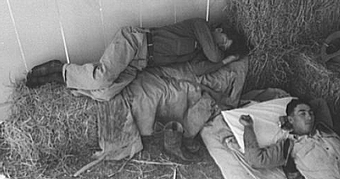 Cowboys were wearing socks when they first became cowboys. Various types of knit socks have been around for at least 2,500 years, and anyone who subjects his feet to as much wear and tear as a cowboy does certainly needs them. In the early days, that item of clothing would have been commonly known as a stocking; the portion of a stocking that covered the foot itself was referred to as the sock.
For a cowboy, socks are important for preventing chaffing from his boots, as well as serving as insulation in cold weather and absorbing perspiration in warm weather.
Photo of cowboys asleep in horse show barn at San Angelo Fat Stock Show, San Angelo, Texas, by Russell Lee, 1940. Courtesy of Library of Congress, Farm Security Administration - Office of War Information Photograph Collection.
Previous Question | Next Question

Return to Questions and Answers Index

Return to the "Learning More About Horses..." page
COPYRIGHT © 2008 BOB LEMEN, GRAND RAPIDS, MINNESOTA. ALL RIGHTS RESERVED.
The contents of this document are not for reproduction.