Return to Questions and Answers Index
Q&A Questions and Answers:
---
QUESTION: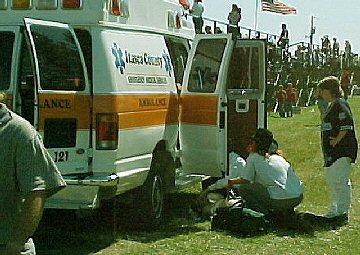 My understanding is that in "the old days," rodeo cowboys could not get health insurance -- because the cost/risk to the insurance companies would have put them out of business (unless they made the premiums very high, in which case the cowboys couldn't have afforded them). I honestly don't know what the guys are doing about that now -- though I'm aware that there is at least one, if not two, "relief funds" to help with catastrophic medical costs. If you have info related to "non-catastrophic" medical insurance, I'd like to know about that too -- seems like they'd all go broke, if they have to pay for frequent "doctoring" out of their winnings....
The impression I had -- going back to the 50's to early 60's -- was that cowboys were on their own to pay their medical bills; and that because of the great sense of community, their fellow riders would "pitch in" and help to alleviate the financial burden when one of them was injured. Also that, depending on the doctor or hospital -- if they were rodeo fans -- they might shave a bit off the bill, or allow payments to be made when a guy won his next big purse.
How far off the mark am I, Bob?
L. B.
ANSWER:
The early rodeo cowboys -- bull riders included -- did indeed pass the hat to help cover an injured rider's medical bills. As time went on, they organized what amounted to a union -- the Cowboys' Turtle Association, which eventually became the Professional Rodeo Cowboys Association (PRCA). It also functioned as a sort of fraternal group health insurance company. Today, the PRCA offers a voluntary insurance program for members and their families.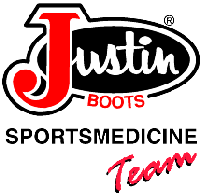 In addition, at the 1980 National Finals Rodeo, the Justin Heeler Program (later called the Justin Sportsmedicine Team) began. As you are probably aware, it is a medical unit -- fully funded by the Justin Boot Company -- that attends rodeos in customized trucks and is prepared to treat injured cowboys during a rodeo. The program also has permanent facilities in Guthrie, Okla., and Mesquite, Texas. For long-term treatment they use a referral network of medical care providers throughout the country. Over the years, the Justin Sportsmedicine Team has served more than 112,000 competitors at thousands of rodeos, providing tens of millions of dollars worth of medical services. The Team has used more than 14 million feet of athletic tape alone!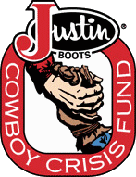 In 1989, in partnership with the PRCA and the Women's Professional Rodeo Association (WPRA), Justin set up the Justin Cowboy Crisis Fund (JCCF), which offers financial help to injured competitors while away from the arena. Over the years, it has generously provided millions of dollars to hundreds of cowboys and cowgirls. While the Justin Sportsmedicine Team does not accept donations, the Justin Cowboy Crisis Fund does. One hundred percent of donations to this fund go to help injured cowboys and cowgirls -- all administrative costs are covered by Justin and the PRCA or WPRA.
Finally, many working cowboys have the oportunity to join an agriculture-related insurance group or association.
Even with this extensive safety net, I still see the hat being passed from time to time to help injured cowboys -- especially in the non-PRCA-sanctioned "open" rodeos. Although I'm not a rodeo competitor, I've even kicked in a few bucks myself on occasion.
The Justin Sportsmedicine Team logo and Justin Cowboy Crisis Fund logo are registered trademarks of the Justin Boot Company.
Previous Question | Next Question

Return to Questions and Answers Index

Return to the "Learning More About Horses..." page
COPYRIGHT © 2010-2018 BOB LEMEN, GRAND RAPIDS, MINNESOTA. ALL RIGHTS RESERVED.
The contents of this document are not for reproduction.