Return to Questions and Answers Index
Q&A Questions and Answers:
---
QUESTION:
Do horses sleep standing up or do they have to lie down?
F. F.
ANSWER: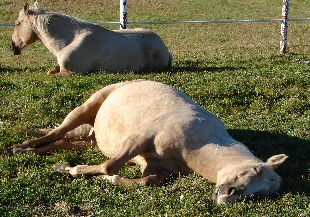 The simple answer is "Yes." Horses can sleep while standing and while lying down. They have structures in their legs which can lock in place, allowing their muscles to relax while allowing the horse to still stand upright. However, horses require one or two hours of REM (Rapid Eye Movement) sleep per day or they will become sleep deprived, and they can only achieve REM sleep while lying down. Overall, a horse only requires an average of two and a half hours of sleep per day -- but it may spend more than 15 hours a day in various types of naps.
By the way, in case you've ever wondered, horses do dream. While I was snapping this photo of Sweet Pea asleep, she would make running motions with her legs and make chewing motions with her mouth as though grazing -- all signs that she was having dreams.
Previous Question | Next Question

Return to Questions and Answers Index

Return to the "Learning More About Horses..." page
COPYRIGHT © 2010 BOB LEMEN, GRAND RAPIDS, MINNESOTA. ALL RIGHTS RESERVED.
The contents of this document are not for reproduction.