Return to Questions and Answers Index
Q&A Questions and Answers:
---
QUESTION:
Hello Bob,
I am looking for information or studies that you might know of about the therapeutic effects of horses. If you know of a web site that might have some information I would be very grateful.
Thanks
- R. A.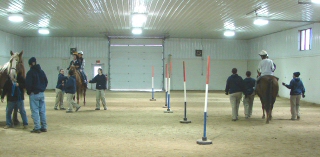 ANSWER:
For information on hippotherapy and therapeutic riding, the first place to look is the web site of the Professional Association of Therapeutic Horsemanship International (PATH Intl) -- formerly NARHA -- (www.pathintl.org). They have several articles dealing with various therapeutic benefits.
I hope you find some of this useful. By the way, back in the '70s - before I was elected to the state legislature - I served as a board member on the Minnesota State Council for the Handicapped... so such programs have a special spot in my heart.


Happy Riding!

Return to Questions and Answers Index

Return to the "Learning More About Horses..." page
COPYRIGHT © 2000-2013, BOB LEMEN, GRAND RAPIDS, MINNESOTA. ALL RIGHTS RESERVED.
The contents of this document are not for reproduction.