Return to Questions and Answers Index
Q&A Questions and Answers:
---
QUESTION #1:
Could you please tell me when this year's Effie, Minnesota, rodeo will take place?
- W.
---
QUESTION #2:
I was wondering how to go about getting into the Effie rodeo, for the bull riding. I do not know if you can help me, but any information you have would be appreciated. Thank you.
- J. H.
ANSWER: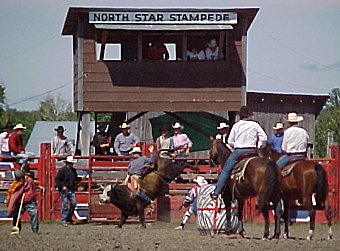 The Effie North Star Stampede is always on the same weekend -- the last full weekend of July, rain or shine.
The rodeo is held on Friday, Saturday, and Sunday, with an Old Timers' performance at 5:00 p.m. on Friday, and Open Rodeos at 2:00 p.m. on Saturday and Sunday. There is also a rodeo parade in "downtown" Effie on Saturday evening.
For competitor registration information, contact the Pitzens at:
North Star Rodeo
Effie, MN 56639
(218) 743-3893
...And when you contact the Pitzens, please tell them "Cowboy Bob" Lemen says "howdy"!
Maybe I'll see you there.
Happy Rodeoing!
---
...And a response:
Cowboy Bob, I would just like to thank you for your help. I really appreciate it. I emailed half a dozen people looking for information and you were the only responder.
Thanks again.
- J. H.
You're mighty welcome! My pleasure!
Previous Question | Next Question

Return to Questions and Answers Index

Return to the "Learning More About Horses..." page
COPYRIGHT © 2015-17 BOB LEMEN, GRAND RAPIDS, MINNESOTA. ALL RIGHTS RESERVED.
The contents of this document are not for reproduction.