Return to Questions and Answers Index
Q&A Questions and Answers:
---
QUESTION:
I'm going to get you yet!... this famous mother, born in Chicago, headed west for 59 years and finally retired in 1985. Who is she?
- R. G.
ANSWER: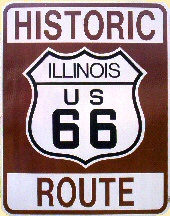 Sorry, you picked another wrong question for stumping me. In fact, I have a lot of cherished memories of John Steinbeck's "Mother Road." To me, however, the title "Main Street of America" fits the old Route 66 better.
When my folks moved from New Jersey to California, we logged a lot of miles on that road. It was on Route 66 in Amarillo, Texas, that I bought my first cowboy hat. The first long trip my family took after I got my driver's license followed Route 66 almost from its western terminus at Santa Monica nearly to its birthplace in Chicago -- and I got to drive most of that distance... both ways. I traveled Route 66 on the way to the Philmont Scout Ranch in New Mexico and later to college in Indiana. The bus that took me to Indiana for my wedding traveled the "Main Street of America" most of the way. Even when I took the train, the Santa Fe Super Chief was rarely far from Route 66. And there's a lot more I could tell about places like Albuquerque, Kingman, Flagstaff, Needles, Barstow, Calico, and dozens more.
For me, a lot of America's heart died when the Route 66 designation was officially dropped in 1985.
---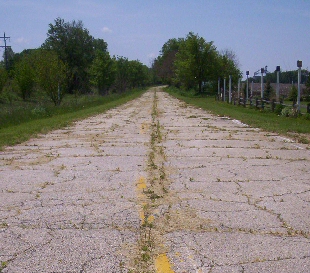 Today Route 66 is not on ordinary maps and there are very few road signs marking it. However, you can still find traces of it if you know where to look.

Several states have maps available -- many for free -- from state tourism offices and state Route 66 associations. They will help you locate the remaining traces of the various routes that the Mother Road took over the years. If you prefer to simply purchase a complete set of maps, guidebooks, etc. from a single source, contact the National Historic Route 66 Federation, a nonprofit organization dedicated to preserving Route 66 across the country. They have a number of information packets available for a wide range of prices.

National Historic Route 66 Federation
P.O. Box 1848
Lake Arrowhead, CA 92352-1848
Phone: (909) 336-6131
Web site: http://www.national66.org


Return to Questions and Answers Index

Return to the "Learning More About Horses..." page
COPYRIGHT © 2004 BOB LEMEN, GRAND RAPIDS, MINNESOTA. ALL RIGHTS RESERVED.
The contents of this document are not for reproduction.