Return to Questions and Answers Index
Q&A Questions and Answers:
---
QUESTION:
Dear Mr. Bob,
I am Italian and writing a book on Custer subject. I'm searching for a manual that could be used in 1876 to teach Cavalry strategy to the Soldiers and Officers - graphics, maps with movements to follow in battle, how to charge if the enemy is in front, bigger, smaller etc. Do you know where I can locate such a kind of manual? Does it exists a specific manual for Cavalry at war?
I actually have the Cavalry tactics manual of 1874 and the Cooke's one, that surely Custer had in his readings.
Please answer quickly, and my congratulations for your wonderful website!
God Bless America,
- L. G.
ANSWER:
Howdy, L. G.!
I wish you well in your research of George Armstrong Custer... he's a difficult fellow to figure out! I doubt that any study of nineteenth century military doctrine will help you understand Custer -- unless you use it as an example of what George ignored! Custer was an audacious individualist, and not the best student of military strategy and tactics. He chalked up a record number of demerits at West Point -- where he graduated at the rock bottom of his class. Like his brother Tom (who in many ways was the better soldier), George was courageous, energetic, and foolhardy; truly a military accident waiting to happen. Rather than waste time on the methods outlined in Cooke's "School of the Squadron, Mounted," George Custer generally employed a single battle tactic -- he charged! During the Civil War, Custer had at least ten horses shot from under him. On June 25, 1876, Custer employed his usual tactic -- and charged his men into the largest gathering of hostile Indians in American history!
If, nonetheless, you want to understand the military thinking of Custer's day -- especially cavalry operations -- be sure to read "Civil War Memoirs" by General Philip Sheridan.
The University of Michigan has several military books available on the Internet. The actual page images are readable, but unfortunately the text versions are in UNcorrected OCR format and may be difficult to read for someone whose first language is not English. Here are some volumes that may be of interest to you:
Journal of army life, by R. Glisan.
Revised United States Army regulations of 1861, with an appendix containing the changes and laws affecting Army regulations and Articles of war to June 25, 1863., United States. War Dept.
Thirty years of army life on the border. Comprising descriptions of the Indians nomads of the plains; explorations of new territory; a trip across the Rocky mountains in the winter; descriptions of the habits of different animals found in the West, and the methods of hunting them; with incidents in the life of different frontier men, &c., &c. By Colonel R. B. Marcy.
Military dictionary: comprising technical definitions; information on raising and keeping troops; actual service, including makeshifts and improved material; Scott, Henry Lee, 1814-1886.
Finally, The Library of Congress has an excellent searchable site called American Memory. You'll find a wealth of texts and photographs there!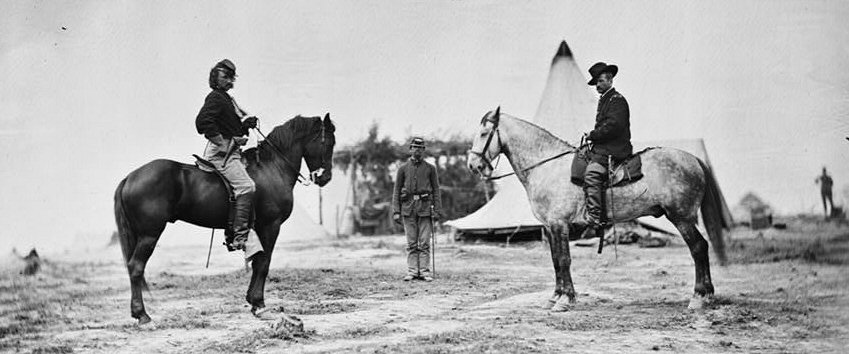 Capt. George A. Custer and Gen. Alfred Pleasonton on horseback at Falmouth, Virginia, April, 1863. Photograph by Timothy H. O'Sullivan, courtesy of the Library of Congress.

Return to Questions and Answers Index

Return to the "Learning More About Horses..." page
COPYRIGHT © 2005 BOB LEMEN, GRAND RAPIDS, MINNESOTA. ALL RIGHTS RESERVED.
The contents of this document are not for reproduction.