Return to Questions and Answers Index
Q&A Questions and Answers:
---
QUESTION:
Hi there,
My friends and I would like to know how a "ten gallon hat" got its name. And we thought you might know. Thank you in advance from all of us!
- S., H., C. & S.
ANSWER: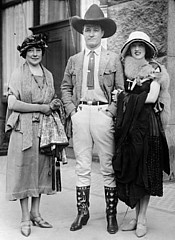 Howdy, ladies!
The high-crowned hats we associate with early Western stars like Tom Mix (see attached photo - courtesy of the Library of Congress) actually became popular among cowboys after the Civil War. It was called a "ten gallon hat" because it looked big enough to carry ten gallons. Obviously, the nickname was highly exaggerated, but it got the idea across. The commodious chapeaus were convenient for everything from carrying water to your horse to taking up the offering at church. As cowboys became a bit less flamboyant, the size of the hats shrank -- although a number of hat-makers still produce the old "Tom Mix" style.
Thanks for your question!


Previous Question | Next Question

Return to Questions and Answers Index

Return to the "Learning More About Horses..." page
COPYRIGHT © 2005 BOB LEMEN, GRAND RAPIDS, MINNESOTA. ALL RIGHTS RESERVED.
The contents of this document are not for reproduction.