Return to Questions and Answers Index
Q&A Questions and Answers:
---
QUESTION #1:
Do you know the name of the bucking bronco on a state's plate since before 1938?
-- P.
ANSWER #1: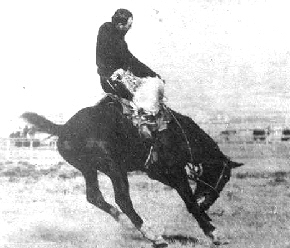 Did you ever see a Wyoming license plate? The "Bucking Horse and Rider" symbol is said to represent the famous rodeo horse, "Steamboat." One of the best known bucking horses of all time, Steamboat was dubbed "the horse that couldn't be ridden" because none of the original ranch hands could break him. As a rodeo bronc, however, Steamboat was ridden successfully many times.
Foaled in 1896 near Chugwater, Wyoming, the black gelding suffered a nose injury as a three-year-old. When a bone fragment was removed from a nostril, the resulting hole caused a whistling sound like a steamboat whenever the horse bucked -- thus giving him a new moniker. Steamboat's flashy bucking style and stiff-legged, bone-jarring jumps almost guaranteed top prize money for any rider who could manage to stay on board. Among the cowboys who rode Steamboat to a finish were Harry Brennan, Clayton Danks, Guy Holt, Tom Minor, and Thad Sower. After Steamboat's death in 1914, Danks remarked, "...I think a part of rodeo ended for me, too."
A terror in the arena, Steamboat was really easy to handle the rest of the time. Steamboat was recognized by a plaque in the National Cowboy Hall of Fame in 1975 and inducted into the Professional Rodeo Hall of Fame in 1979.
Steamboat's image also appears on the U.S. commemorative quarter for the state of Wyoming.
Photo: Guy Holt bounces on the back of Steamboat on the rodeo grounds at the Albany County Fairgrounds, Laramie, Wyoming, August, 1903. The photo was taken by a U of Wyoming professor, Burt C. Buffum. Corrected caption information thanks to John R. Waggener, Associate Archivist, American Heritage Center, University of Wyoming. Photo courtesy of Western History/Genealogy Department, Denver Public Library.
---
QUESTION #2:

Once known as "Tumbling Mustard." This bronc was sold in 1924. It made rodeo history and later became known as "the bronc they couldn't break." What name is he now known by? -- M. S.

-- M. S.


ANSWER #2: The Canadian horse formerly known as "Tumbling Mustard" was almost sent to the slaughter house before it achieved rodeo fame as the bucking horse "Five Minutes to Midnight." Small, but a smart bucker, Five Minutes to Midnight would often change strategy right in the middle of a buck. In his 20-year career, he was only ridden some 14 times. He was retired in 1945, dying the next year.



Previous Question | Next Question

Return to Questions and Answers Index

Return to the "Learning More About Horses..." page
COPYRIGHT © 2006-13 BOB LEMEN, GRAND RAPIDS, MINNESOTA. ALL RIGHTS RESERVED.
The contents of this document are not for reproduction.