Return to Questions and Answers Index
Q&A Questions and Answers:
---
QUESTION:
Bob,
I know that each horseriding school has some letters placed around it, although I just don't know them... is there any chance you could send me a diagram labelling the name and whereabouts of each letter?
-- N. R.
ANSWER: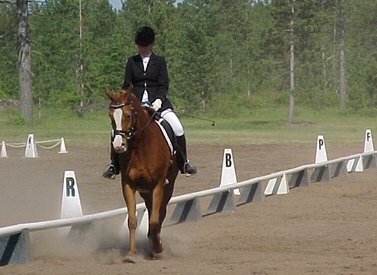 I think what you're asking about are the letters placed around a dressage arena. The letter "A" is placed in the middle of one of the narrow sides and the letter "C" is placed in the middle of the opposite end. The letters on the long sides vary, depending on the length of the arena. There are also some imaginary (unmarked) letters along the centerline of the arena. The letters tell the rider which points to move between during the various parts of the dressage test. The movements will also vary depending on the skill level at which the horse and rider are competing.
The bottom line: unless you are studying to compete in dressage, you don't need to worry about the letters. They can, however, come in handy as landmarks to aim for while you move your horse back and forth across the arena at various angles.

Previous Question | Next Question

Return to Questions and Answers Index

Return to the "Learning More About Horses..." page
COPYRIGHT © 2006 BOB LEMEN, GRAND RAPIDS, MINNESOTA. ALL RIGHTS RESERVED.
The contents of this document are not for reproduction.