Return to Questions and Answers Index
Q&A Questions and Answers:
---
QUESTION:
Was the cowboy life glamorous?
-- I. Q.
ANSWER: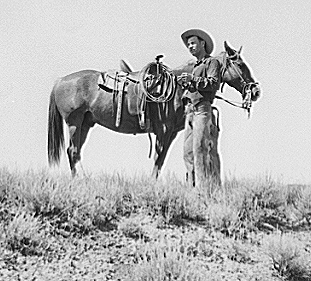 At first glance, it seems like a stretch to call a grubby, sweaty, weather-worn cowhand "glamorous," but that description may actually be very accurate!
The dictionary defines glamorous as having an air of allure, romance and excitement, as in "glamorous movie stars"; attractive in an exciting and special way. And what is "allure"? The power to entice or attract through personal charm.
'Fess up now: who hasn't, at one time or another, found himself attracted by the thought of mounting a cow pony and riding off to a rough-and-tumble life of adventure in the wild West? The cowboy lifestyle certainly has rich elements of romance and excitement, and the quiet strength and confidence of the stereotypical range rider clearly has a personal charm.
So, yes, I think you can safely say that the cowboy life was -- and is -- glamorous!
(Photo courtesy of the Library of Congress.)


Previous Question | Next Question

Return to Questions and Answers Index

Return to the "Learning More About Horses..." page
COPYRIGHT © 2006 BOB LEMEN, GRAND RAPIDS, MINNESOTA. ALL RIGHTS RESERVED.
The contents of this document are not for reproduction.