Return to Questions and Answers Index
Q&A Questions and Answers:
---
QUESTION:
I keep seeing and hearing the phrase, "Cowgirl Up." What does it mean?
-- M. S.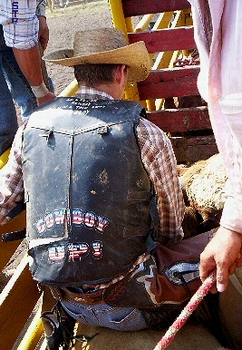 ANSWER:
"Cowgirl Up" is the female version of the old rodeo warning call, "Cowboy up."
This cry from the chute meant that the rider was seated on the bronco or bull and was ready for the gate to open. Over time, the expression came to mean that someone was ready and able to tackle some huge challenge. In some cases, it is even used as a verb: to cowboy up, meaning to be prepared physically and mentally for some difficult or dangerous undertaking. "C'mon, cowboy up for the job; you can do it!"
(At left a contestant gets set to "cowboy up" at the North Star Stampede Rodeo in Effie, Minnesota.)

Previous Question | Next Question

Return to Questions and Answers Index

Return to the "Learning More About Horses..." page
COPYRIGHT © 2006 BOB LEMEN, GRAND RAPIDS, MINNESOTA. ALL RIGHTS RESERVED.
The contents of this document are not for reproduction.