Return to Questions and Answers Index
Q&A Questions and Answers:
---
QUESTION:
What did cowgirls wear?
-- M. S.
ANSWER:
With a few exceptions, women through the early 1800s generally wore full-length skirts and rode side saddles -- at least when exposed to view by non family members. (One such exception was Sybil Ludington's heroic 1775 dash through the Connecticut countryside, during which she wore a pair of her father's trousers.) Toward the end of the 1800s, a few bold women (some would have called them "brazen") were wearing split skirts and riding astride the saddle. When extreme work situations (and modesty) required them to wear trousers, women would still cover the pants with a long skirt whenever possible.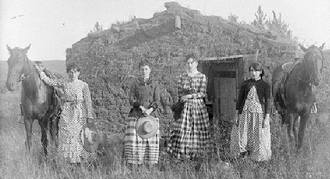 At left, in 1886, Nebraska homesteaders Harriet, Elizabeth, Lucie, and Ruth Chrisman wore long skirts, but their saddles indicate that they rode astride. In all likelihood, their ankle-length skirts covered a pair of pants.
Photo courtesy Nebraska State Historical Society.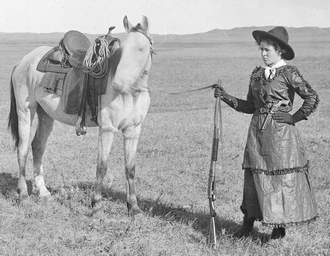 At right, rifle- and pistol-packin' Nebraska cowgirl Sadie Austin wore a split skirt topped by a short over-skirt when riding her father's range in the 1890s.

Photo courtesy Nebraska State Historical Society.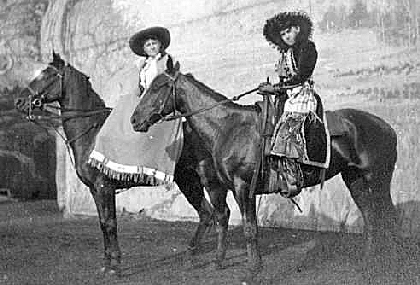 At left, trick riders and ropers Georgia Duffy and Della Ferrell, both members of Buffalo Bill's Wild West Show, pose on horseback during an appearance in England. Both women joined the show in 1887 as two of the "Western Girls." Duffy, a Wyoming cowgirl, wears a full skirt and rides side saddle. Ferrell, a native of Colorado, wears Mexican-style pants under a short skirt and rides astride.

Photo courtesy Western History/Genealogy Department, Denver Public Library.

After 1900, most female riders took to wearing split skirts or loose-fitting trousers and the side saddle was on its way out. By the time he produced his famous horsemanship course in the early 1900s, "Professor" Jesse Beery could confidently claim that, "Since all girls and women now ride astride, the form of saddle for ladies and men is the same."

Until the post-World War I era, there was one absolutely unbreakable taboo for female riders: They must NEVER reveal any part of their legs, even the ankle. As late as the 1920s and 30s, respectable ladies still generally observed this restriction -- even when wearing jeans. If there was any risk of the skirt lifting too high, high-top shoes or boots eliminated any possibity of embarrassment.

Below, "Cow Girls" at the Pendleton, Oregon, "Round Up" in 1911 all wear trousers or split skirts and sit astride their horses. And there's nary an ankle to be seen.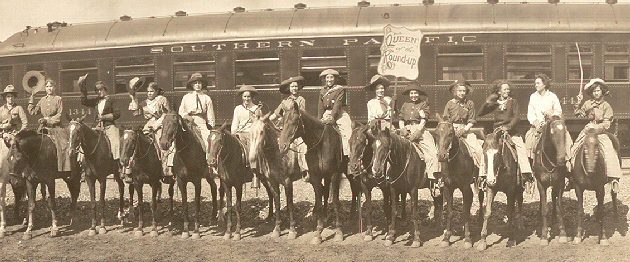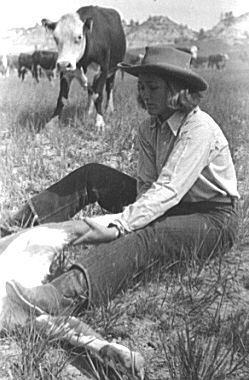 (Photo courtesy of the Library of Congress.)
The "liberated" days of the "Roaring Twenties" and later saw newly-emboldened females beginning to wear jeans and other form-fitting pants -- like the young lady helping to brand a Montana calf in 1939 at right. (Photo courtesy of the Library of Congress.)
Western movies produced in the 1930s -- which generally starred actors with real ranch experience and acurately reflected Western attire of the time -- often had "cowgirls" wearing loose-fitting equestrian pants with wide-cut thighs.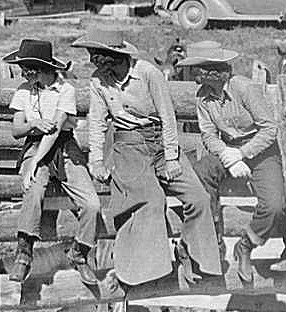 World War II saw women working and dressing like their male counterparts, and from that time on, "cowgirl" attire differed from that of the cowboys only in tailoring details and the orientation of things like flies and plackets.

(Photo courtesy of the Library of Congress.)


Previous Question | Next Question

Return to Questions and Answers Index

Return to the "Learning More About Horses..." page
COPYRIGHT © 2006 BOB LEMEN, GRAND RAPIDS, MINNESOTA. ALL RIGHTS RESERVED.
The contents of this document are not for reproduction.