Return to Questions and Answers Index
Q&A Questions and Answers:
---
QUESTION:
How did the draft horse get its name?
B. M.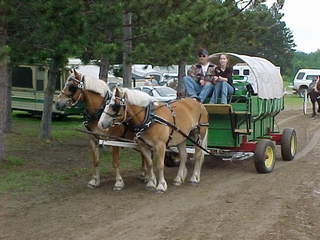 ANSWER:
The word "draft" is a corrupted spelling of "draught" [pronounced draft] which eventually found its way into common usage. It means "to drag, draw, or pull along."
A draft horse is one that has been bred for the weight and muscle power needed for pulling a wagon or other load.
Previous Question | Next Question

Return to Questions and Answers Index

Return to the "Learning More About Horses..." page
COPYRIGHT © 2006 BOB LEMEN, GRAND RAPIDS, MINNESOTA. ALL RIGHTS RESERVED.
The contents of this document are not for reproduction.