Return to Questions and Answers Index
Q&A Questions and Answers:
---
QUESTION:
What does the word "mustang" mean, and how did the breed originate?
S. Q.
ANSWER:
It is generally assumed that the word "Mustang" comes from a Spanish word -- possibly "mestengo" or "mesteño," -- meaning a "stray, feral, or ownerless" horse. The word, it is thought, may have originally been derived from the mesta, an association of livestock owners who ran their stock together and used horses from a common pool as needed.
In North America, the mustang was descended from strays originally brought from Europe to the South and Southwest by Spanish explorers and settlers; to the Great Lakes region and Midwest by French explorers, missionaries, traders, and settlers; and to the Pacific Northwest by British trappers and traders.
Although we commonly use the term, North American "wild" horses such as the mustang are not truly wild, but feral horses, because they were originally from domesticated stock. With the disappearance of Prjevalsky's horse from the Gobi desert, there are no actual "wild" horses left on earth.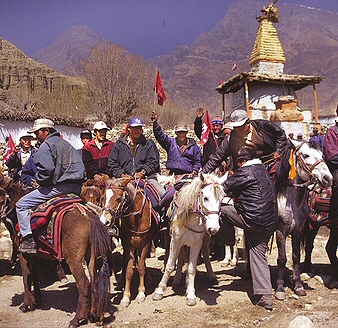 I've never seen anything to document this idea, but I've often wondered if the word "mustang" may have even deeper roots than are commonly assumed. In northeast Nepal -- in the Tibetan mountains -- is an ancient land known as Mustang. The area is noted as the home of some small, tough ponies that beautifully fit the classic description of today's "mustang." Is it possible that some long-forgotten traveler from the Orient could have brought back tales of rugged "mustang" ponies in Tibet -- and that the word found usage in the Western world? It seems like less of a linguistic stretch to think that the word "mustang" may be derived from the Nepalese word "mustang" rather than from the Spanish word "mestengo."
The photo at right, courtesy of Wolfgang Pfriemer, shows a group of Maoists who ride on genuine "Mustang" ponies as they try to drum up support for their cause in the Mustang region of Nepal. You can see more photos from Wolfgang's treks through Mustang at: www.flickr.com/photos/wufgaeng/sets/72157600191578068/.
Previous Question | Next Question

Return to Questions and Answers Index

Return to the "Learning More About Horses..." page
COPYRIGHT © 2007 BOB LEMEN, GRAND RAPIDS, MINNESOTA. ALL RIGHTS RESERVED.
The contents of this document are not for reproduction.