Return to Questions and Answers Index
Q&A Questions and Answers:
---
QUESTION:
Are pine needles poisonous to horses?
- D. C.
ANSWER:
Thanks for the interesting -- and short -- question!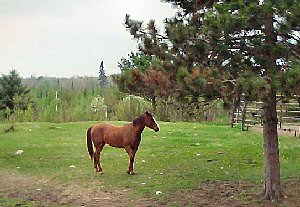 The over-simplified answer to your question is "no." Bear in mind, of course, that anything -- even water -- can kill you if you get too much of it. There was a lady several years ago who heard that carrots were good for you -- so she started eating dozens of carrots every day. This may seem like the lead-up to a joke, but it's deadly serious. She died of Vitamin A toxicity.
Although eating large quantities of pine needles over a period of several days will cause cattle to abort, I've never heard of a horse having a problem with them. In fact, pine needle extract is an ingredient in some fly sprays for horses. I'd be more concerned about the resin from pine trees, although I've only heard of one horse getting sick from it. And up in my neck of the woods a lot of horse pastures have pine trees in or around them.
Previous Question | Next Question

Return to Questions and Answers Index

Return to the "Learning More About Horses..." page
COPYRIGHT © 2005 BOB LEMEN, GRAND RAPIDS, MINNESOTA. ALL RIGHTS RESERVED.
The contents of this document are not for reproduction.