Return to Questions and Answers Index
Q&A Questions and Answers:
---
QUESTION:
It may look a little like the Kremlin but you can find this peculiar palace in the heart of South Dakota... and what's it made of?
-- R. G.
ANSWER: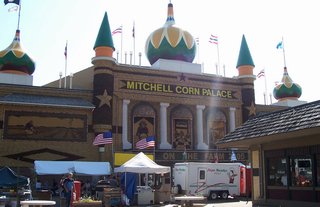 The Corn palace in Mitchell, South Dakota, may look like it's a North American version of the Kremlin built out of corn, but the structure is really reinforced concrete. The corn, grain, and grasses on the exterior are applied each spring. The local birds then use the structure as a giant feeder all winter.
Another rival for the claim of being a Kremlin-like structure in South Dakota is the Petrified Wood Park at Lemmon (no relation to yours truly -- it's spelled the wrong way). The park covers a city block in the heart of downtown and looks somewhat like a miniature golf course on steroids. Built of petrified wood (as the name implies), the park is a haphazard jumble that includes a castle, a wishing well, a waterfall, and a museum.
Corn Palace snapshot courtesy of Emily Benes.
Previous Question | Next Question

Return to Questions and Answers Index

Return to the "Learning More About Horses..." page
COPYRIGHT © 2005 BOB LEMEN, GRAND RAPIDS, MINNESOTA. ALL RIGHTS RESERVED.
The contents of this document are not for reproduction.