Return to Questions and Answers Index
Q&A Questions and Answers:
---
QUESTION:
Cowboy Bob, What do lice look like on horses? My horse has these yellow things on the hair of her legs that won't pull off easily. Is this lice and do you know of an easy natural way of getting rid of them and how likely can humans get lice from horses? Thanks,
-- T.
ANSWER: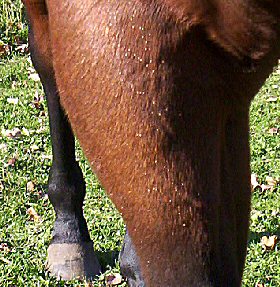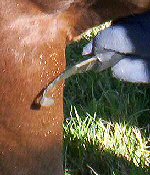 Those tiny, yellow, round things on the hair of your horse's legs are not lice; they are the eggs of botflies. And they are one of the reasons you want to keep up-to-date on worming your horse. When the eggs hatch, the little maggots burrow into the horse's skin, then travel around to various organs (doing a bunch of damage). Eventually, the critters pass out the back end of the horse or migrate back to the skin, where they emerge, mate, and start the process all over again.
The best method I know for getting them off your horse is to scrape them off with a fairly sharp hoof knife.
Previous Question | Next Question

Return to Questions and Answers Index

Return to the "Learning More About Horses..." page
COPYRIGHT © 2005 BOB LEMEN, GRAND RAPIDS, MINNESOTA. ALL RIGHTS RESERVED.
The contents of this document are not for reproduction.