Return to Questions and Answers Index
Q&A Questions and Answers:
---
QUESTION:
Bob:
What did the cowboys call the leather wristbands which were worn over the shirt cuff?
-- B. F.
ANSWER: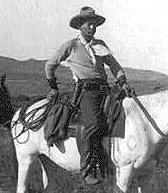 They were (and still are) just called cuffs -- sometimes wrist cuffs. They protect the shirt sleeves from brush, getting tangled in a rope, or catching fire from a campfire or branding iron fire. In addition, if fitted snugly, they give a little extra support and strength to the wrist -- sort of like the wrist wraps you see on gymnasts and other athletes.
Previous Question | Next Question

Return to Questions and Answers Index

Return to the "Learning More About Horses..." page
COPYRIGHT © 2005 BOB LEMEN, GRAND RAPIDS, MINNESOTA. ALL RIGHTS RESERVED.
The contents of this document are not for reproduction.