Click Here to return to the Weather Lore page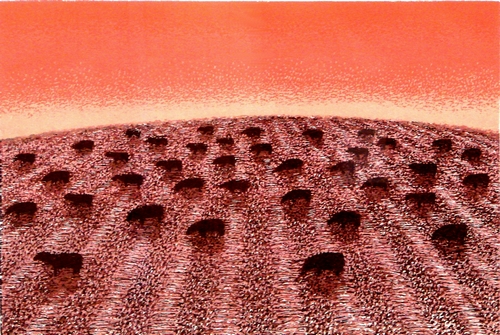 Okay, now it's time to see if you've mastered the art of cowboy weatherlore!
The photo above is of a woodblock print, titled "Angus Sunrise," by the incredibly talented Minnesota artist, Charles Beck of Fergus Falls.
I was waiting for a doctor's appointment at the local clinic when I noticed this artwork on the wall. The longer I looked at it, the more amazed I became at the depth of weather detail in it. I must have studied that thing for twenty minutes or more and was disappointed when my name was called because I wasn't done plumbing the depths of the scene!
Can you answer this set of questions just by looking at this North American scene? (Click on the links to check your responses.)
1. What direction is the wind blowing FROM?

2. What direction will the wind be shifting?
["Angus Sunrise" © Charles Nelson Beck, used by the kind permission of the artist.]
Mailing address:
Cowboy Bob Lemen
P.O. Box 69
Grand Rapids, Minnesota 55744
(218) 326-4762

Return to Cowboy Bob's Home Page
COPYRIGHT © 2008 BOB LEMEN, GRAND RAPIDS, MINNESOTA. ALL RIGHTS RESERVED.
The contents of this document are not for reproduction.